HALLOIIIEEN T-Shirt
$

27.00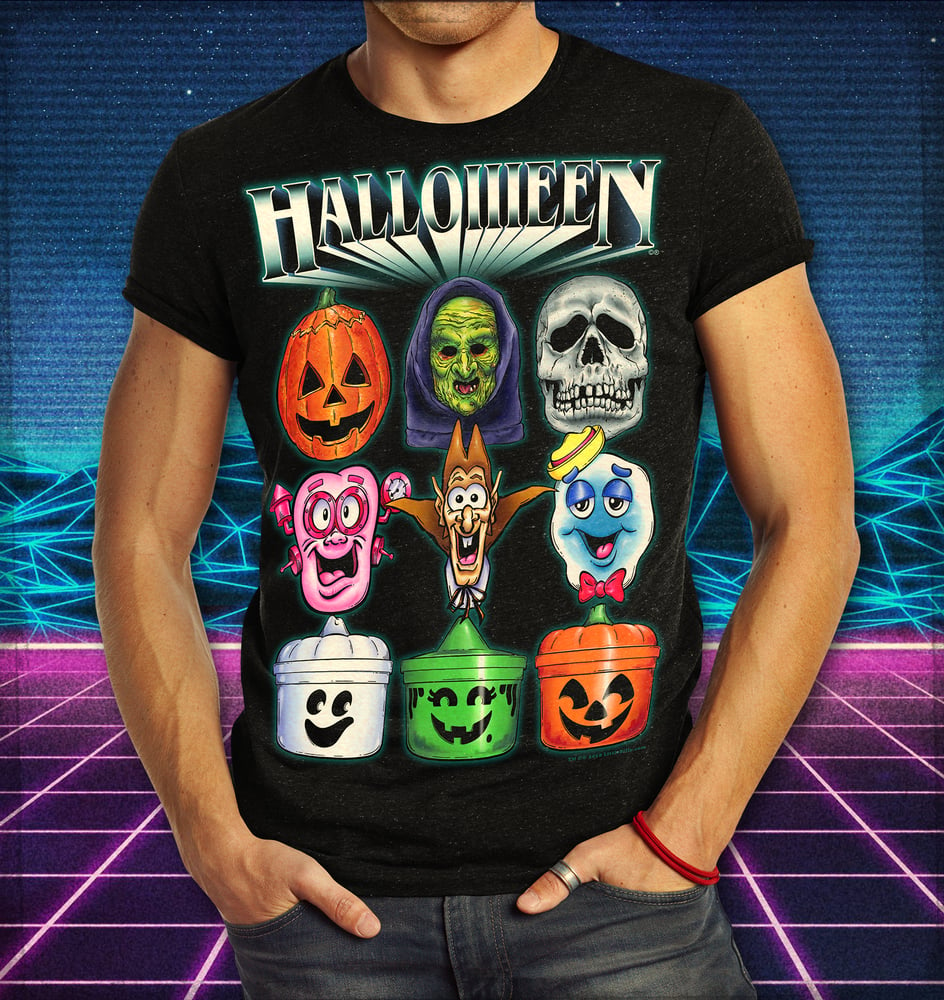 IN STOCK
Sales support the HALLOIIIEEN animated short!
THE HALLOIIIEEN COLLECTION
The Official T-Shirt
Watch the promo video here.
SCROLL DOWN AND CLICK THE DROP-DOWN MENU ABOVE THE "ADD TO CART" BUTTON TO SELECT YOUR T-SHIRT SIZE AND FIT!
NOTE: IF YOUR SIZE IS NOT DISPLAYED, IT IS CURRENTLY SOLD OUT.
Email Little Billy here to request a RE-PRINT.
Please include your name and the design image, size, and fit (Men's or Women's) you want.
AVAILABLE SIZES
MEN'S: SMALL - 4XL
WOMEN'S: SMALL - 2XL
Join the Trick-Or-Trio Trifecta and get ready for HALLOIIIEEN, Little Billy's first official animated short, with this original T-shirt! Now you can celebrate Halloween with this trilogy of trios compiling all your favorite Halloween icons in one place for the first time ever! The power of thrice compels you! It's an '80s childhood Halloween nostalgia overload! Never before have Halloween's most iconic and notorious faces all been teamed up in one timeless design. Get yours now to enjoy all year, every year!
Printed by ThreadBird (the very printer that's printed most of the FRIGHT-RAGS apparel), this design was hand-drawn by Little Billy creator and lead Simpsons animator, Chance Raspberry, and traditionally hand-painted by Garbage Pail Kids master artist, Joe Simko.
Little Billy is on his way to a screen near you! This first short inspired by the dominating '80s Horror cult classic, Halloween III: Season Of The Witch, is now in production but needs your help. All sales go toward funding this short, so grab this design for yourself or a friend and help bring Little Billy to life! To learn more and get involved in this rising animated series today, check out LittleBilly.com and thank you so much for your support. If you're not like the other kids...he's just like you!
Support Little Billy on Patreon here.
Follow the quest on YouTube here.
Watch the Little Billy trailer here.
Get on the Mailing List here.
TM ©® 2019 Chance Raspberry. All Rights Reserved.